On October 14th come support Richland and Jasper County cancer patients at the RCHS HOPE Night! Team members at Carle Richland really outdid themselves with these baskets…and these are just part of what is available! Tickets are 6 for $5 or 25 for $20. They will be out at the football 🏈 game on the home side. Tickets can be purchased then until half-time when the winners will be drawn. Need not be present to win.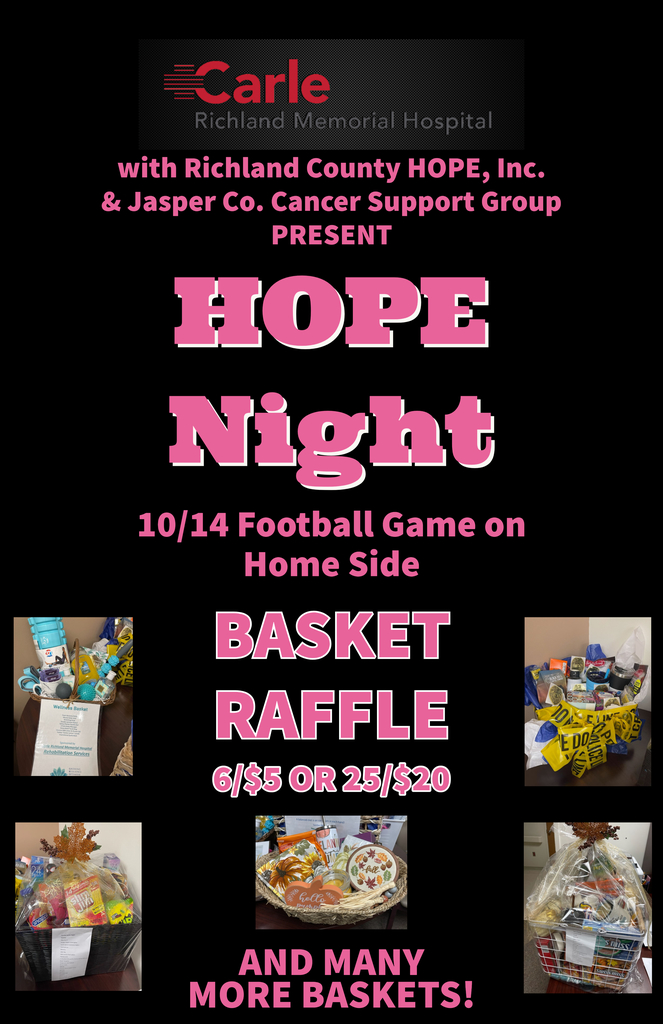 OTN Athletics is extremely active today and tomorrow! We want to wish our Lady Tiger Tennis Team best of luck today as they start Sectional action in Centralia. Our Tiger Football squad will host Newton tonight at 7pm. Hope Night continues tonight so bring your money for a variety of raffles. Proceeds benefit cancer patients of Richland and Jasper Counties. Saturday, Tiger Soccer will begin quarterfinal postseason action at 11:00am against Mt. Vernon at Olney Central College. And last, but certainly not least, good luck throws go out to our Lady Tiger Volleyball squad as they compete in the Edwards County Tournament with action beginning at 9am. OTN • ALL IN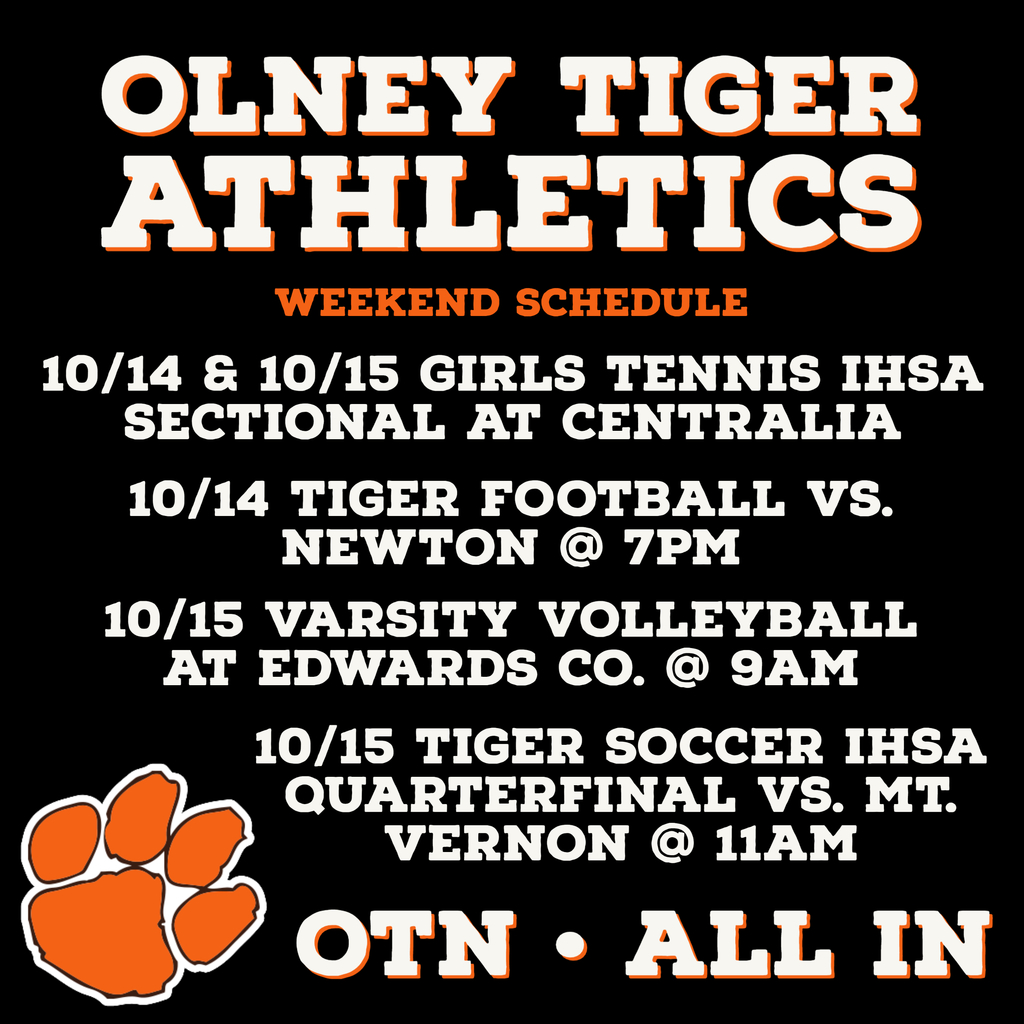 The RCHS September Stripes award winners are pictured for the monthly STRIPE: Service. What does Service mean to RCHS? We will Serve our School and our Community through service projects as well as by being good stewards of our respective programs. Front Row (from left): Kassandra Gibson, Bailey Snyder, Chloe Prevo, Victoria Rudolphi, Shelby Vincent, Jack Williams, Chase Ackman, Maddie Piercefield, Tea Cline, Audry Runyon, Ashley Hill, Brooklyn Renfrow, Lyndsey Akes, and Joselyn Kocher Middle Row (from left): Leo Scott, Jessica Dehner, Caroline Glover, Lucy Johnson, Ally Lynch, Ainsley Doris, Asher Lambird, Aliyah Tracy, Willow Conn, Delaney Williams, and Ethan McLaughlin Back Row (from left): Cody Fulk, Tomas Lea, Davin Urfer, Xavier Zuber, Kaden Belcher, Alex Nealis, Holden Hough, Taylor Runyon, Evelyn Bogard, Keara Christopher, and Natalie Ellison Not pictured: Darby Bissey, Davian Grimes, Ben Spitzner, Brandon Wenger, Levi Ochs, Seth Norwood, Josephline Lyttle, Claire Barbeiro, Baxter Smith, and Jacob Beard


🔌GET PLUGGED IN 🔌 See below for the RCHS Weekly bulletin for October 11-16, 2022. Students can check out Schoology for mid-week updates.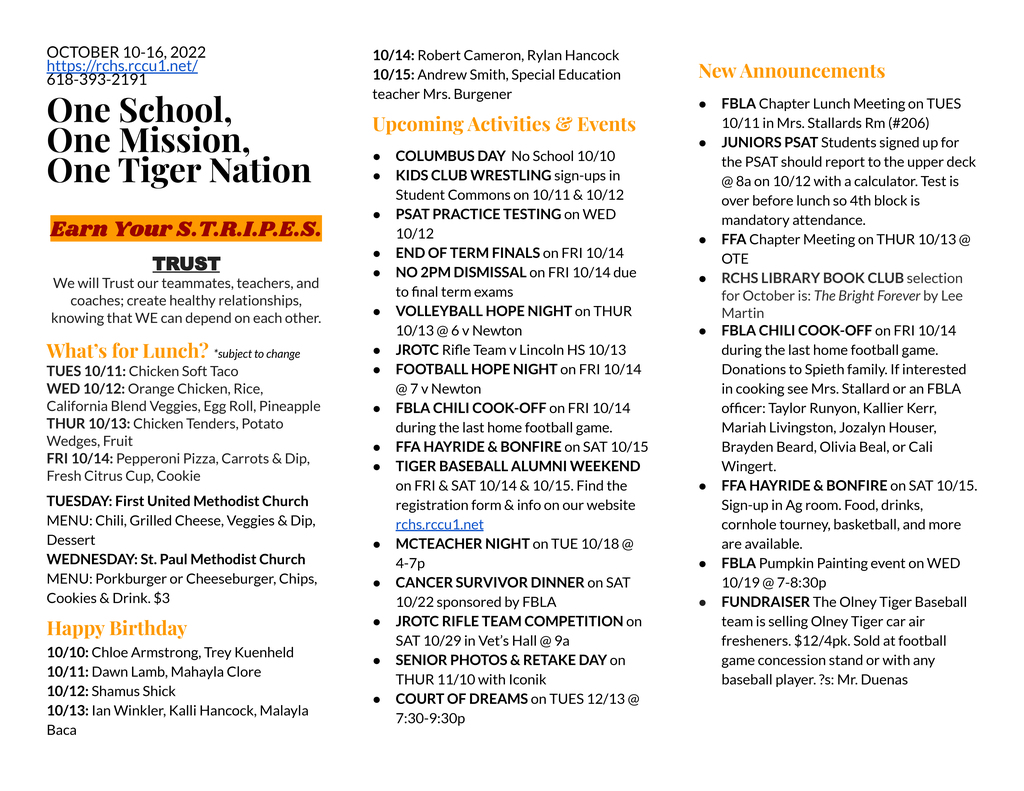 October is Breast Cancer Awareness Month! The CRMH Radiology Department has been working with representatives of Richland County HOPE, Inc. and the Jasper County Cancer Support Group to host two HOPE events at Richland County High School. CRMH has purchased shirts for both Lady Tiger and Lady Eagle volleyball teams for their match this Thursday, October 13, and jerseys for both the Olney Tigers and Newton Eagles football teams for their game this Friday, October 14. A basket raffle fundraiser will be taking place with tickets available for purchase at the volleyball game and until half-time of the football game. Many departments and individuals at CRMH donated beautiful baskets for this event, they will be available for viewing at both games. There will also be a cake/pie auction before the varsity volleyball game on Thursday, so don't miss out on your chance to bid on some delicious treats! All money raised from the raffle and cake/pie auction will be split equally between Richland County HOPE, Inc, and the Jasper County Cancer Support Group...so don't miss out on your opportunity to help out local cancer survivors!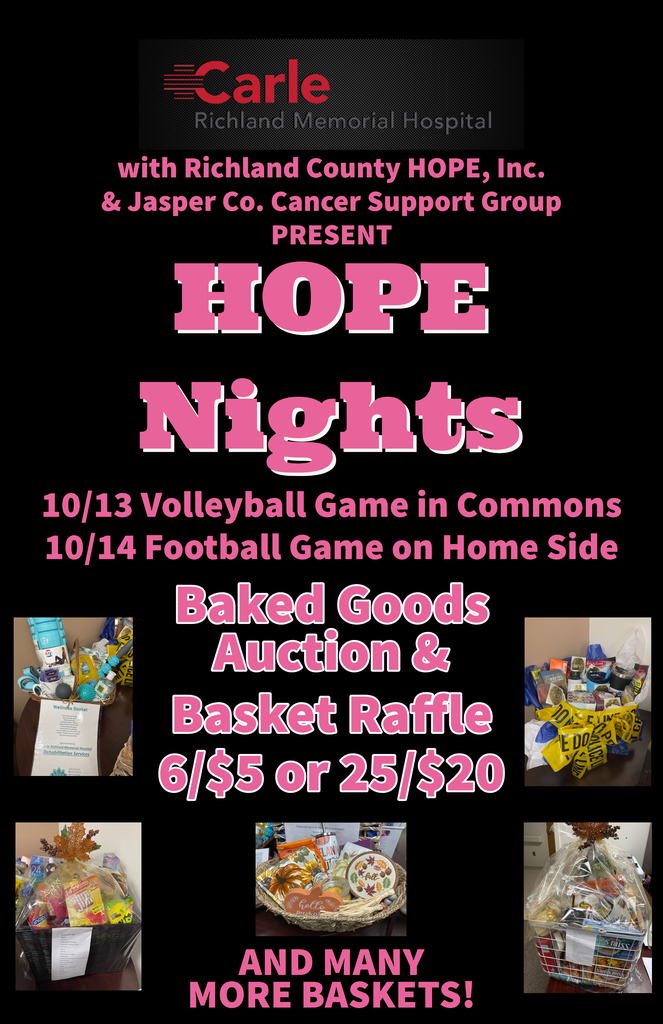 Looking ahead to Tuesday, October 18th from 4-7pm: McDonald's is proud to support local schools by partnering with them for McTeacher's Night! Join us at Olney McDonald's for food and fun as the school staff roll up their sleeves to cook and serve students. Proceeds from this fundraising event will help support upcoming programs and projects at the school.

Olney Tiger Athletics are on the road and at home this weekend. Friday and Saturday, members of Tiger Golf compete at Bloomington or Decatur in IHSA State Golf play. On Saturday, Girls Tiger Tennis hosts the LIC Tourney right here in Olney beginning at 8am. And that evening, catch Tiger Football action at Robinson at 7pm. Get out and root on those Tigers! OTN • ALL IN

Join the Beautiful Lives Project and the Richland County High School Cheerleaders for a Court of Dreams event on December 13, 2022, from 7:30 - 9:30 pm CST at the high school gym. Forty (40) adults and children, with disabilities, will have the opportunity to learn a cheerleading routine and perform with the Olney Tigers cheerleading squad at the first home game of the season against the Salem Wildcats Boys Basketball team. There will be a mandatory practice on Thursday, December 8, 6 - 8 pm CST. The practice will be in the auxiliary gym and the doors on the outside of the gym will be propped open to enter. Boys and girls are both invited to perform with the team. The Beautiful Lives Project and Richland County High School Athletics strive to promote an inclusive environment, where people of all abilities can experience sports first-hand, work as a team, and build new friendships. To reserve your spot on the court, please fill out the event waiver by clicking on the link below or copying it into your browser search bar.
https://www.beautifullives.org/events/2022/12/13/richlandcheer

🔌GET PLUGGED IN 🔌 See below for the RCHS Weekly bulletin for September 26-October 2, 2022. There is A LOT going on this week at RCHS. Check out Schoology for mid-week updates.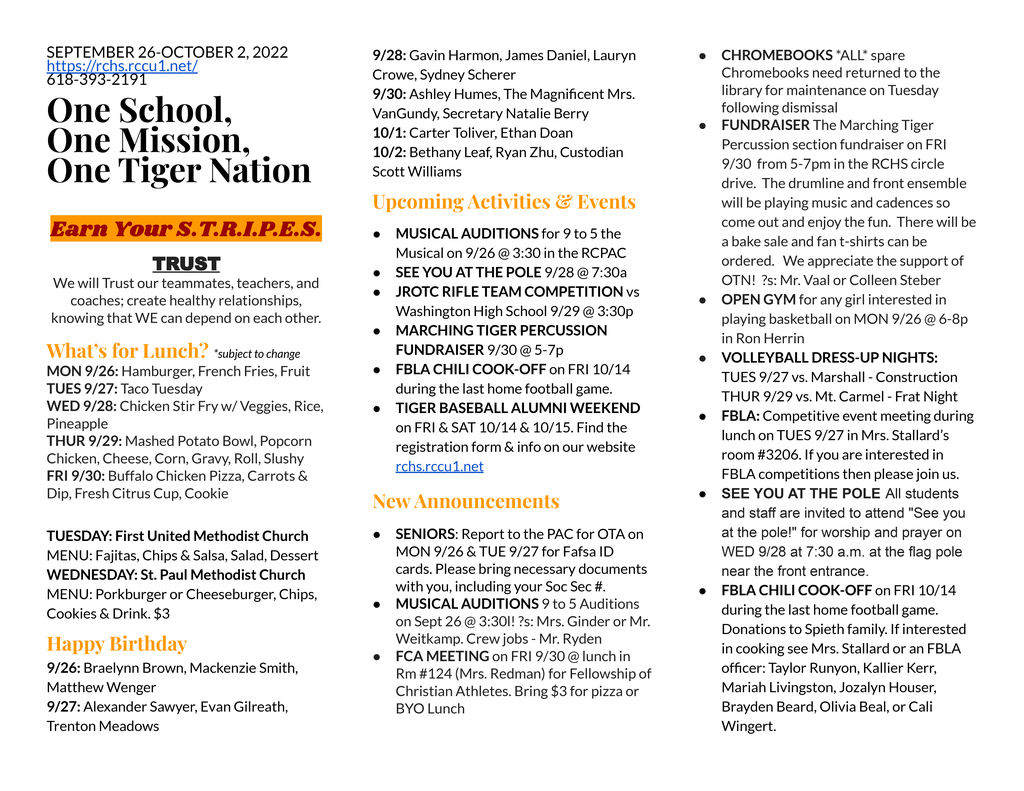 The RCHS Marching Tigers competed at the 2022 Panther Marching Band Festival in Eastern Illinois University's O'Brien Stadium. The band competed in class 3A. The Marching Tigers racked up caption awards for Best Percussion (3A), Best Auxiliary (3A), Best Music (3A), and Best Visual (3A). The band earned 1st Place in Class 3A (out performing five other bands in the class). Your RCHS Marching Tigers are the Grand Champion of the small school marching band competition (1A-3A), which hosted 15 marching bands from across the state! Congratulations, band! Go Tigers!

Olney Tiger senior football players and their families were recognized tonight before the game. Congratulations to these players on fantastic high school careers!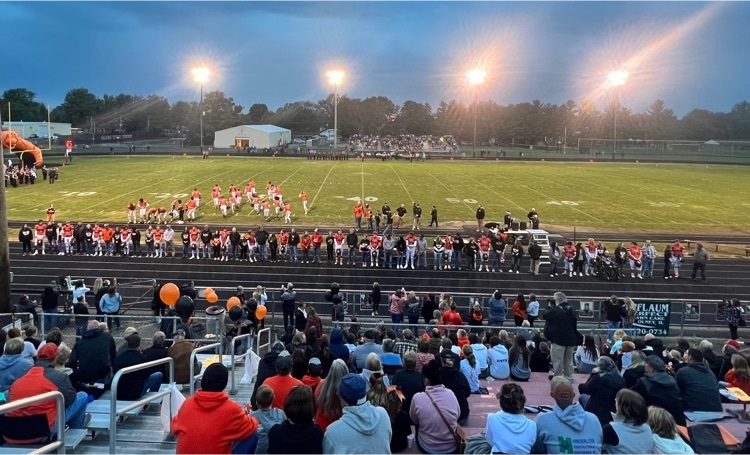 This weekend Olney Tiger Athletics are in full swing! Friday, September 23 hit the links to watch Tiger Golf compete at 1pm in the Charleston Tourney. Later in the evening at 7pm, catch Olney Tiger Football face the Mt. Carmel Aces under the lights at home . Keep in mind that tonight is Senior Night for Olney Tiger Football ONLY! On Saturday the 24th, Freshman Volleyball heads to the Effingham Tri-Match (TBA). Tiger Girls Tennis hits the courts at the Centralia Annie Invitational at 9am while Varsity Tiger Soccer wraps up the events of the weekend taking on Charleston at 11am. Find time to see these athletes in action! OTN • ALL IN
Students will be released 3 hours early on Wednesday, September 21 for school improvement activities. As a result, buses will be dropping off students at their stop 3 hours earlier than normal.

RCCU1 Message: Picture Day at RCHS is Wednesday, September 21st. Pictures will be available for viewing and to order online approximately 3 weeks after picture day. See Richland County High School Facebook page for more information.

🐯Show your support for #OneTigerNation during the RCHS HOMECOMING PARADE today! After leaving the high school at 1:50, the parade route will include Scott, Van, and Hall streets. 🐯SHOW YOUR OLNEY TIGER PRIDE again tonight at the BIG Homecoming Football Game vs. Marshall. Events start at 6:30 with KICKOFF at 7! Gooooooooo Tigers!!!

Today is Homecoming at RCHS! • The Homecoming Parade sets off from RCHS at 1:50pm. The parade will then travel eastbound to RCMS and continue to RCES. • This evening the Tigers take on the Marshall Lions at 7pm. Homecoming Coronation will take place during halftime. Be sure to come out and root on Olney Tiger Football tonight! OTN • ALL IN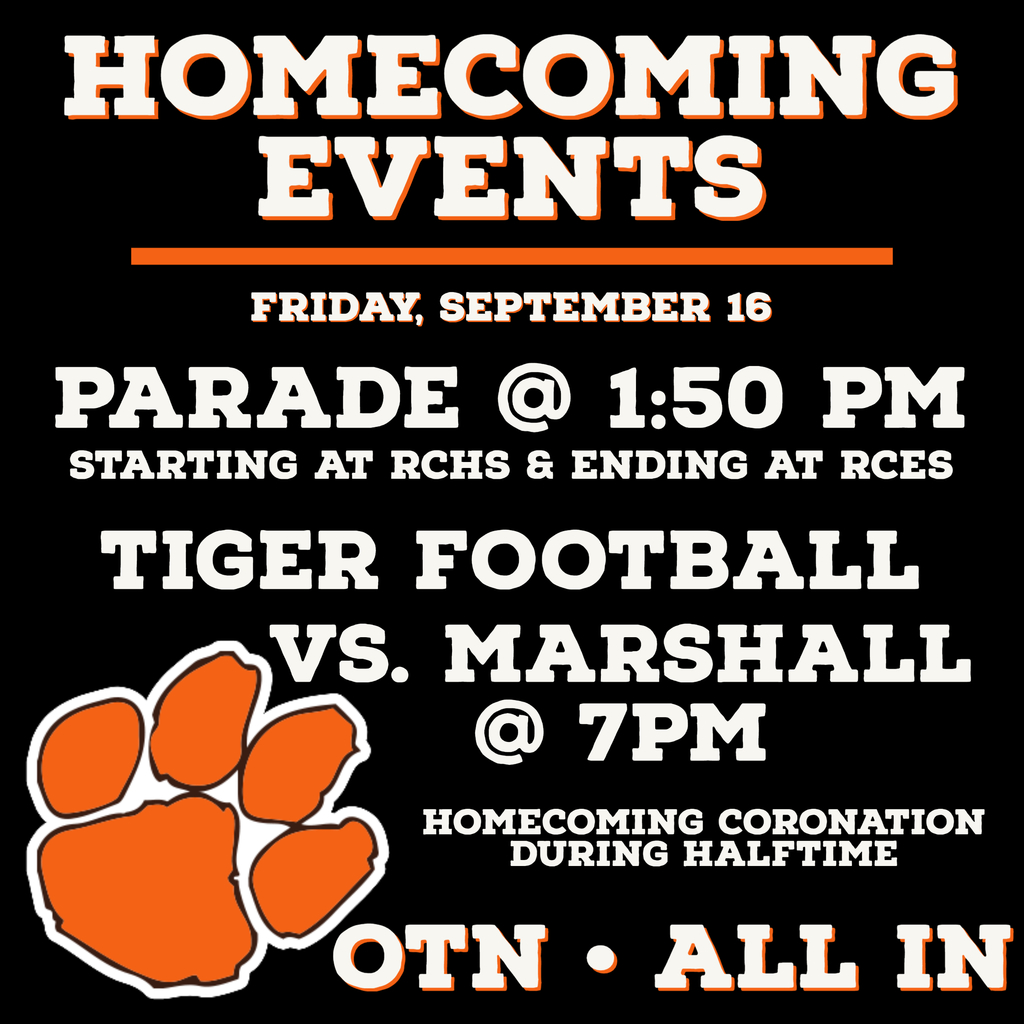 📸HIGH SCHOOL PHOTOS 📸 on Wednesday , September 21st. Dress up and SMILE PRETTY 😀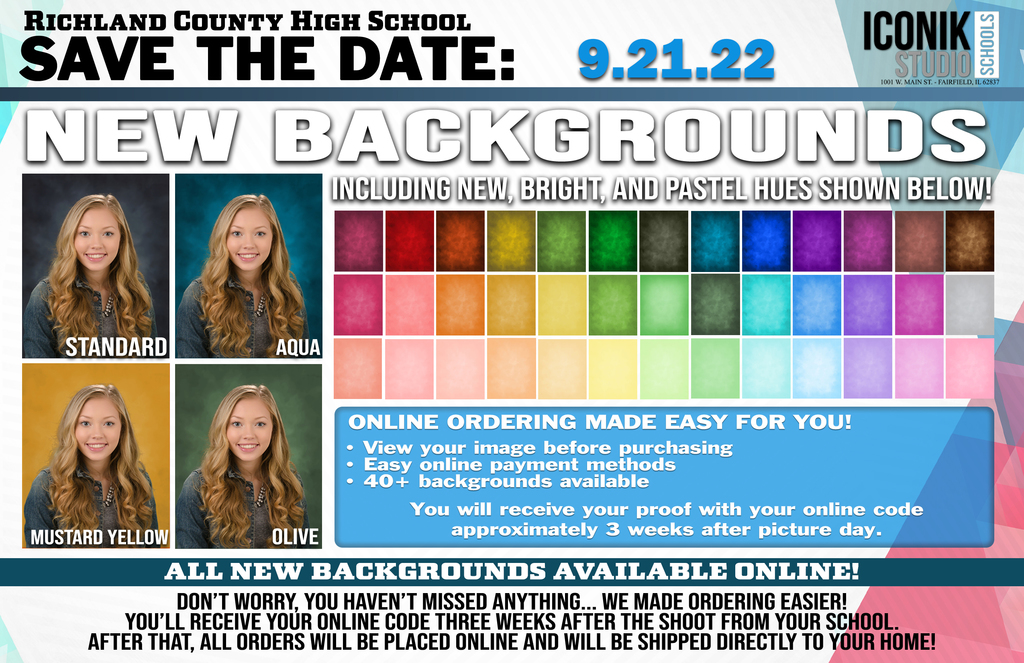 RCHS Weekly Bulletin for the week of September 12-18, 2022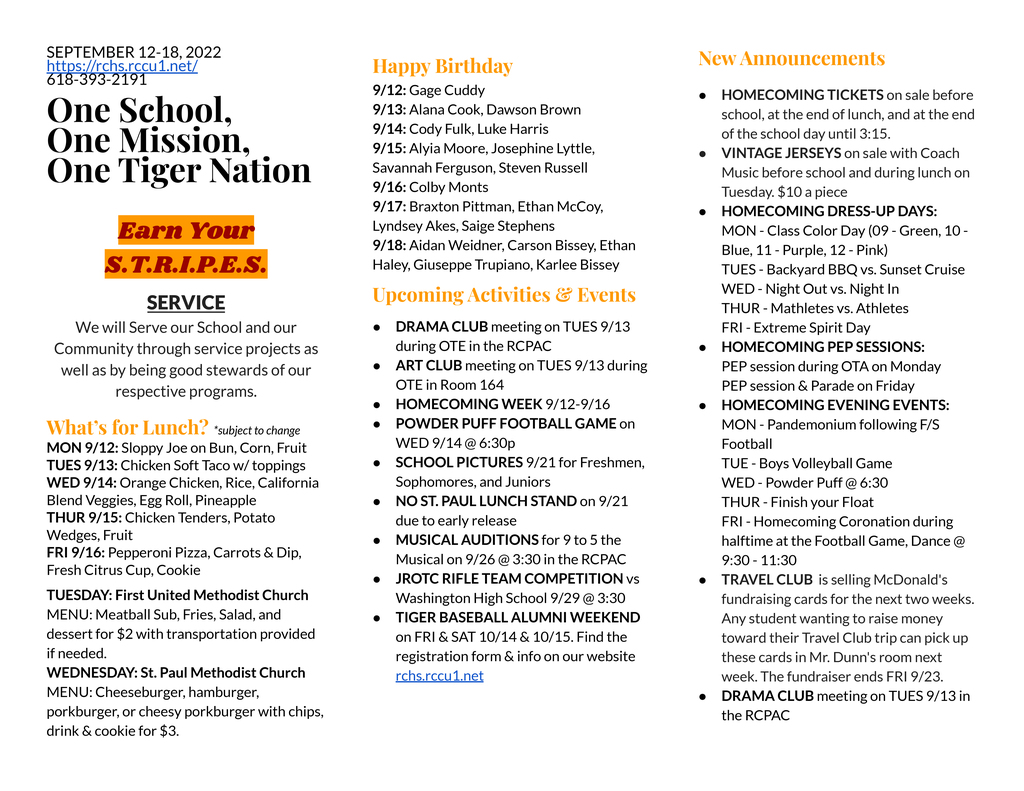 HOMECOMING EVENTS 2022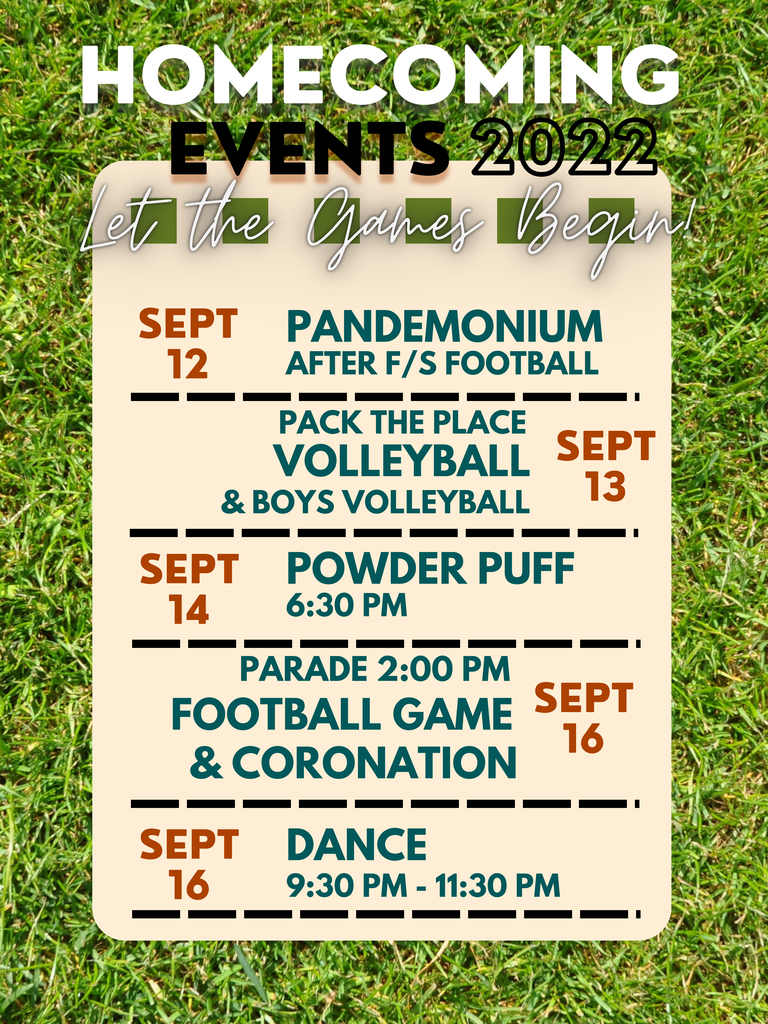 RCHS Weekly Bulletin for the week of September 5-11, 2022